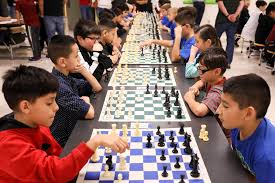 What?:

Chess RVA "Cross Round" Chess Tourney

Who?:

Kindergarten through 8th grade (two sections)

When?:

Sunday, June 5th from 2:00 pm – 5:00 pm (3 hours)

Where?:

Unplugged Café : 1300 Sycamore Square, Midlothian, VA 23113
Why?:

Chess RVA's cross round tourney will have you playing between 5 to 9 games in 3 hours.

How?:

As soon as your game ends, you are paired with the next available player.

How much?:

$20 if paid by May 28th, $25 if paid after May 28th.
Register online at www.ChessRVA.com under Tournaments.

Other:
Trophies for section K-3 and 4-8 grade. Quick Rated, both rated and non-rated sections. USCF membership not required but recommended. Clocks at G/15 or less with delay 0 will be used if needed. 
Chess RVA's tournaments:
Occur in person every 4-6 weeks (non-COVID)
Are only 3 hours long
Have participants playing anywhere from 4-8 games
Combine both unrated and quick rated (G/15) – membership with USCF for 4th graders and higher is recommended but not necessary – https://secure2.uschess.org/webstore/member.php?wkmemtp=U1)
Have two sections K-3rd and 4th-8th with trophies for the top 2 in each section
Give out chess key chains for all participants
Applies the "touch move" rule
Recording of moves not required
Once game is completed, you will be matched with next available player
Players may end up with a different number of games completed
Clocks may be used to keep tournament on schedule
Parents are free to stay or to go, but do not linger over your child's chess board
Free adult quad sections available, Quick Rated, G/20, delay 3 seconds
Contact Information: Brian Garbera 804-921-2410 cell/text